AM/P series have an outstanding power-source performance / abundant performances / substantial option, and correspond to broad request of your processing site.
In addition to abundant performances, high-speed small-hole-electric discharge machine AM/P series exhibits an outstanding cost performance by its easy operativity. This is a separate type of EDM which the machine body and the power-source are able to combine freely according to your site operating condition. Furthermore, A33M type enables high rigid and highly precise processing with the gate type and V shape flat configuration.


| | |
| --- | --- |
| Table exterior dimensions (width x depth) | 400×400mm |
| Work-table height | 64mm |
| Work tank interior dimensions (width x depth) | 553×647mm |
| Work maximum height | 300mm |
| Table moving distance (X-axis x Y-axis) | 300×300mm |
| Work maximum loading capacity | 300kgf |
| Diameter of the electrodes | ø0.2-4.0mm |
| Z-axis servo feed distance | 400mm |
| Z-axis processing head up-and-down distance | 300mm |
| Electrode rotation system | DC motor |
| Z-axis servo system | DC servo system |
| Tank capacity | 20L |

| | |
| --- | --- |
| Body dimensions (width x depth x height) | 340×640×1584mm |
| The maximum average processing current value | 40A |
| The maximum input | 4.5KVA |
| nput voltage | AC200/220V 50/60Hz |
| Pulse-wave generation system | Power MOSFET |
| Highest current data change | 1 to 23 step |
| Pulse width control | 1-999 (μsec) |
| Pulse pause width control | 1-999 (μsec) |
| Processing conditions preset (Mcon) | 15sets |
| Capacitor | 0 to 8 steps (9 step is option) |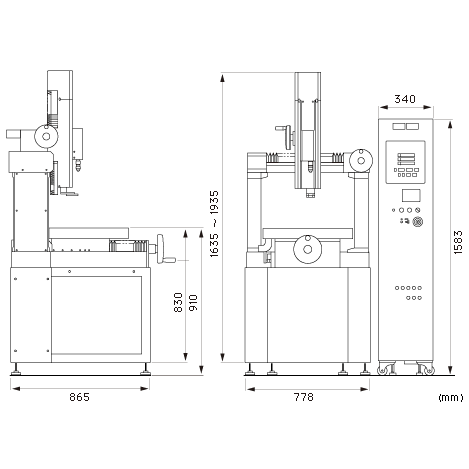 High-speed processing is achieved from small to large diameter.
Since introduction of the high power source which optimized processing of various material (metal) can perform high-speed processing from a small-hole to a deep large-hole, the drastic improvement in productive efficiency is possible.
Burrs generated at the processing surface inlet port are controlled substantially.
An original circuitry which goes up automatically for every step from 0 to the goal setting value is adopted as a processing current value in the CPU circuit by which built-in to the power-source. As a result, the burrs generated at the processing surface inlet port is stopped substantially, and a good processing surface is provided.
It is the best for automation
Since Z-auto function is equipped, processing is completed only pushing the start switch by setting up processing depth value (Zd) and an electrode lifting value (Zu). Moreover, if I/O terminal block (option) is used, automatization can also be performed easily by connecting with external instruments, such as an index table.
Processing-conditions preset function is built in.
The processing conditions of 15 patterns can be registered, and various works can be processed efficiently. Moreover, processing conditions can be changed freely.



AUTO processing function
Only one signal performs from initiation to termination of the processing automatically.
Soft limit function
When the electrode becomes shorter than the set-up numerical value during processing, the Z-axis goes up automatically after the processing is finished.
Three step processing function
In order to decrease fusion substance at the processing inlet port, and to improve processing stability at the processing outlet, three kinds of processing conditions according to a processing depth are performed by automatic switching.
Electrode consumption check function
It is confirmed whether the drilling of hole was normally processed by the consumption of the electrode.
Depth assignment processing function
Processing of the specified depth (blind hole) can be performed without considering consumption of an electrode.
Count function
It outputs a signal of the set-up number of times of processing.

WP-5A - High voltage pump WP-5A
Touch sensor
An inch/mm indication change / X-Y work coordinates (two coordinates)
Automatic/manual mode change
Processing time measurement
IP step-up function
Return-to-origin function of the Z-axis
Z-axis lowest limit soft-limiting function (Avoid the processing interruption if the electrode length being insufficient during processing.)
Machine coordinates display of the Z-axis (change of machine coordinates / work coordinates)
Count the nunmer of thetimes of the processing

WR-100A
Noise filter NF-30B
Prevent the vibration of the Z-axis middle center. ZCG1
Control Software (Check comsunption of electrode, 3 steps, F step)
Remote control box (Domestic only)
Pendent light (halogen) HL-1B
I/O terminal block
Various consumables