home
> Technical-information top


Lightning is a discharge phenomenon of Nature accompanied by a flash of light and the crash of thunder. Normally a gas, such as air, does not conduct electricity. However, when conditions are right, a discharge of electrical current can flow through air. This phenomenon is accompanied by a bolt of lightning (light & heat) and a roll of thunder (sound & pressure). In Electrical Discharge Machining (EDM) a very small "lightning bolt" or spark is created between the electrode and the work piece many hundreds to thousands of times per second. A hole is made by repeatedly melting the work piece at this point of electric discharge and blowing away the molten material by pressure. In Nature, lighting usually strikes a place that is closest to the storm cloud – a tall tree, the peak of a mountain or the lightning rod on a roof for example. Just as in Nature, the spark in EDM occurs at the closest point between the electrode and the work piece. However, the big difference between Nature and EDM is that the spark occurs in a gap the thickness of a human hair.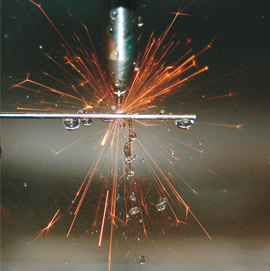 High precision micro-hole machining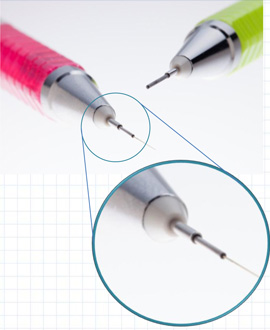 In the micro area processing is possible
Amazing deep-hole processing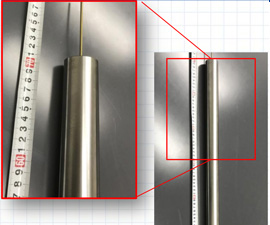 L/D ratio 1,000
Overwhelming speed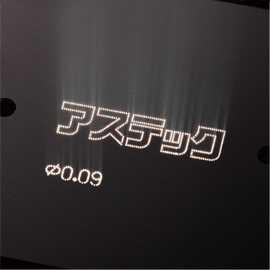 Supports mass production parts in the micro processing area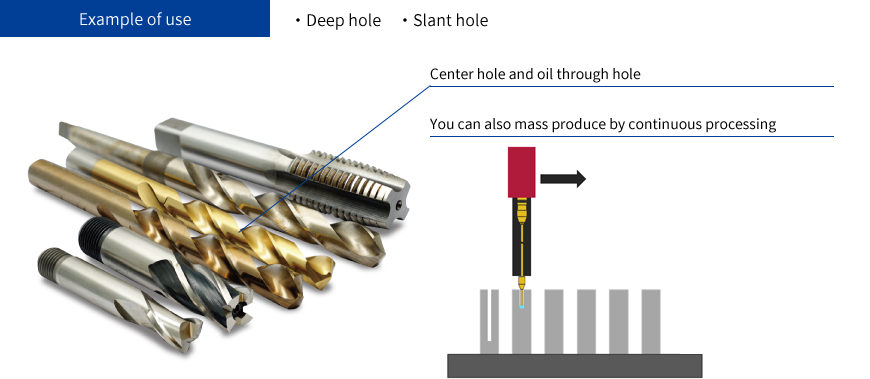 Facing today's challenges in micromachining
(obtaining domestic and international patents)
In electrodischarge processing in the micromachining area-unlike conventional small-hole drilling-it was impossible to discharge burrs from inside the electrode using liquid pressure because it was difficult to make pipe-shared electrodes.
ASTEC solved this problem by developing a micromachining electrode guide, with flush jets allowing processing using the level of power that would normally burn the electrode. This increases the processing speed even further.