home
> Management Philosophy


For our customersWe continue to dream up new challenges to pursue to contribute to the further development of our customers, and the challenges they face.
For our business partnersWe deliver reasonable profits to achieve further growth alongside our partners.
For our employees (colleagues), and their familiesWe prioritize the happiness of our employees (colleagues), and their families, and strive to develop a workplace where everyone can work with peace of mind.
For wider society and the local communityWe abide by social rules, and strive to preserve the environment and natural resources.

Basic principles
At ASTEC, we provide solutions for seemingly insurmountable challenges arising in a wide range of industries through technological improvement and the everyday ingenuity of our employees under the slogan "capturing part processing market needs to contribute to various industries."
ASTEC also leaves no stone unturned in its approach to "eco-friendly and people-friendly manufacturing." Each of our employees are earnest in their endeavors to promote environmental preservation and prevent pollution, and act with the goal of building a more prosperous and safer society for all.
We strive to disseminate the concepts of our Quality and Environment Policy to all employees through education and training exercises, and all employees work toward achieving the quality and environment targets set. We also review the Policy on a regular basis, and as needed, in response to social changes.
Quality Policy
We will work with customers to manufacture and deliver products that live up to our standard for "high quality, high added value, and on-time delivery."
We will cultivate and train human resources that our customers and business partners can trust.
We will adhere to laws and regulations in effect, comply with requirements set, and continue to improve our integrated management system.
Environment Policy
We will endeavor to prevent pollution, and contribute to the preservation of the global and local environment.
We will abide by environmental laws and regulations, and requirements set by stakeholders.
We will strive to make energy use more efficient across all of our operations.
We will work to develop effective ways to utilize resources and reduce waste.
We will promote environment protection activities.
ASTEC Co., Ltd.
President, Tomoyoshi Inoue
Established: April 1, 2021
Revised: October 14, 2021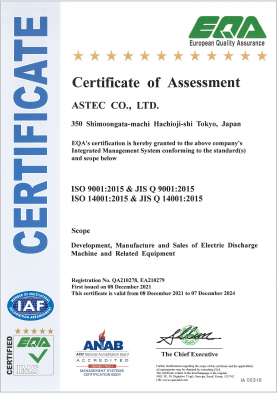 No. :

QA210278, EA210279

Scope :

Development, Manufacture and Sales of Electric Discharge Machine and Related Equipment

Address :

350 Shimoongata-machi Hachioji-shi Tokyo, Japan

Certification :

ISO 9001:2015&JIS Q 9001:2015, ISO 14001:2015&JIS Q 14001:2015
First issued On 08 December 2021