You may order by the following approach after confirming the conversion table according to the model.
ASTEC-Co.,Ltd. Marketing department / Consumable-goods sales
TEL: 042-651-9413 FAX: 042-651-7423
■Order reception time
TEL-FAX & E-mail
Mon.-Fri.
8:30-15:00
Shipment on the day
15:00-
Following business day shipment
Internet
The receptionist to 12:00 is shipment on the day. Shipment will be following-business-day-ships after it.

 Toll-free dial: 0120-519-413
Chuck relation

AEC2

Electrode chuck Left EC-1S/Right EC-1M

Electrode chuck Left EC-2S/Center EC-2M/Right EC-2L / Front CYP-6

Collet chuck Left NCC1A-NCC2B / Right NCC3-NCC7

Double-ended wrench one end 10x11/the other end 8x9
| Product name | Type | Specification | Unit |
| --- | --- | --- | --- |
| Electrode chuck | EC-1M | ø0.5-ø3.0 | 1piece |
| Electrode chuck | EC-1S | ø0.2-ø1.0 | 1piece |
| Electrode chuck | EC-2M | ø0.5-ø3.0 | 1piece |
| Electrode chuck | EC-2S | ø0.2-ø1.0 | 1piece |
| Electrode chuck | EC-2L | ø4.0 | 1piece |
| Chuck holder Y packing | CYP-6 | EC-2M / 2S / for 2L | One set of five-pieces |
| Collet chuck | NCC1A | ø0.2-ø0.25 | 1piece |
| Collet chuck | NCC1B | ø0.3-ø0.4 | 1piece |
| Collet chuck | NCC2A | ø0.4-ø0.5 | 1piece |
| Collet chuck | NCC2B | ø0.5-ø0.6 | 1piece |
| Collet chuck | NCC3 | ø0.65-ø1.0 | 1piece |
| Collet chuck | NCC4 | ø1.1-ø1.4 | 1piece |
| Collet chuck | NCC5 | ø1.5-ø1.9 | 1piece |
| Collet chuck | NCC6 | ø2.0-ø2.4 | 1piece |
| Collet chuck | NCC7 | ø2.5-ø3.0 | 1piece |
| Collet chuck | NCC10 | ø0.3-ø0.5 | 1piece |
| Collet chuck | NCC11 | ø0.5-ø1.0 | 1piece |
| Collet chuck | NCC12 | ø1.0-ø1.5 | 1piece |
| Collet chuck | NCC13 | ø1.5-ø2.0 | 1piece |
| Collet chuck | NCC14 | ø2.0-ø2.5 | 1piece |
| Collet chuck | NCC15 | ø2.5-ø3.0 | 1piece |
| Spacer | AP | ø0.2-ø1.0 | 1piece |
| Spacer | BP | ø1.0-ø2.0 | 1piece |
| Spacer | CP | ø2.0-ø3.0 | 1piece |
| Electrode holder | NCH10 | - | 1piece |
| Nut | NCN10 | - | 1piece |
| Double-ended wrench | 8×9 | - | 1piece |
| Double-ended wrench | 10×11 | - | 1piece |
Electrode packing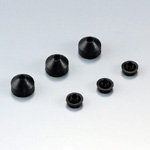 Electrode packing Top L-DL / Bottom AN-DN
| Product name | Type | Specification | Unit |
| --- | --- | --- | --- |
| Electrode packing | AL | ø0.2-ø0.5 | 5 pieces/set |
| Electrode packing | BL | ø0.6-ø1.4 | 5 pieces/set |
| Electrode packing | CL | ø1.5-ø2.2 | 5 pieces/set |
| Electrode packing | DL | ø2.3-ø3.0 | 5 pieces/set |
| Electrode packing | AN | ø0.2-ø1.0 | 1piece |
| Electrode packing | BN | ø1.0-ø2.0 | 1piece |
| Electrode packing | CN | ø2.0-ø2.5 | 1piece |
| Electrode packing | DN | ø2.5-ø3.0 | 1piece |
Chuck holder latch (For EC-2S,2M and 2L)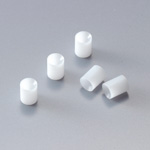 Chuck holder latch AS-DS
| Product name | Type | Specification | Unit |
| --- | --- | --- | --- |
| Chuck holder latch | AS | ø0.2-ø0.6 | 5 pieces/set |
| Chuck holder latch | BS | ø0.7-ø1.2 | 5 pieces/set |
| Chuck holder latch | CS | ø1.3-ø1.7 | 5 pieces/set |
| Chuck holder latch | DS | ø1.8-ø2.2 | 5 pieces/set |
Cover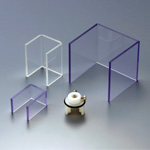 Scatter prevent cover Upper left SC-M / Upper right SC-L / Lower left SC-S / Lower right SC-R
| Product name | Type | Specification | Unit |
| --- | --- | --- | --- |
| Scatter prevent cover | SC-S | Type of U-shape (small) | 1piece |
| Scatter prevent cover | SC-M | Type of U-shape (medium) | 1piece |
| Scatter prevent cover | SC-L | Type of U-shape (large) | 1piece |
| Scatter prevent cover | SC-R | Round shape type | 1piece |
Conductor brush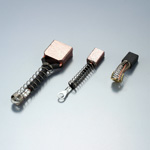 Conductor brush Left EB-3/Center EB-2 /Right EB-1
| Product name | Type | Specification | Unit |
| --- | --- | --- | --- |
| C-axis conductor brush | EB1 | Carbon type | 1piece |
| C-axis conductor brush | EB2 | Cu type | 1piece |
| C-axis conductor brush | EB3 | Cu type | 1piece |
Ceramic electrode guide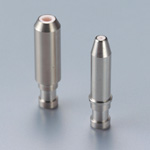 Ceramic electrode guide
| Type | Inner diameter |
| --- | --- |
| CG-001※ | ø0.1 |
| CG-0015 | ø0.15 |
| CG-002 | ø0.2 |
| CG-0025 | ø0.25 |
| CG-003 | ø0.3 |
| CG-0035 | ø0.35 |
| CG-004 | ø0.4 |
| CG-0045 | ø0.45 |
| CG-005 | ø0.5 |
| CG-0055 | ø0.55 |
| CG-006 | ø0.6 |
| CG-0065 | ø0.65 |
| CG-007 | ø0.7 |
| CG-0075 | ø0.75 |
| CG-008 | ø0.8 |
| CG-0085 | ø0.85 |
| CG-009 | ø0.9 |
| CG-010 | ø1.0 |
| CG-011 | ø1.1 |
| CG-012 | ø1.2 |
| CG-013 | ø1.3 |
| CG-014 | ø1.4 |
| CG-015 | ø1.5 |
| CG-016 | ø1.6 |
| CG-017 | ø1.7 |
| CG-018 | ø1.8 |
| CG-019 | ø1.9 |
| CG-020 | ø2.0 |
| CG-021 | ø2.1 |
| CG-022 | ø2.2 |
| CG-023 | ø2.3 |
| CG-024 | ø2.4 |
| CG-025 | ø2.5 |
| CG-026 | ø2.6 |
| CG-027 | ø2.7 |
| CG-028 | ø2.8 |
| CG-029 | ø2.9 |
| CG-030 | ø3.0 |
Sapphire electrode guide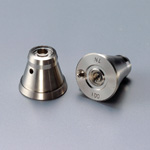 Sapphire electrode guide
| Type | Inner diameter |
| --- | --- |
| SG-001 | ø0.1 |
| SG-0015 | ø0.15 |
| SG-002 | ø0.2 |
| SG-0025 | ø0.25 |
| SG-003 | ø0.3 |
| SG-0035 | ø0.35 |
| SG-004 | ø0.4 |
| SG-0045 | ø0.45 |
| SG-005 | ø0.5 |
| SG-0055 | ø0.55 |
| SG-006 | ø0.6 |
| SG-0065 | ø0.65 |
| SG-007 | ø0.7 |
| SG-0075 | ø0.75 |
| SG-008 | ø0.8 |
| SG-0085 | ø0.85 |
| SG-009 | ø0.9 |
| SG-010 | ø1.0 |
| SG-011 | ø1.1 |
| SG-012 | ø1.2 |
| SG-013 | ø1.3 |
| SG-014 | ø1.4 |
| SG-015 | ø1.5 |
| SG-016 | ø1.6 |
| SG-017 | ø1.7 |
| SG-018 | ø1.8 |
| SG-019 | ø1.9 |
| SG-020 | ø2.0 |
| SG-021 | ø2.1 |
| SG-022 | ø2.2 |
| SG-023 | ø2.3 |
| SG-024 | ø2.4 |
| SG-025 | ø2.5 |
| SG-026 | ø2.6 |
| SG-027 | ø2.7 |
| SG-028 | ø2.8 |
| SG-029 | ø2.9 |
| SG-030 | ø3.0 |
| SG-040 | ø4.0 |
NC ceramic electrode guide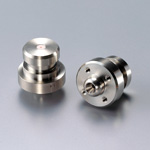 NC ceramic electrode guide
| Type | Inner diameter |
| --- | --- |
| CGN002 | ø0.2 |
| CGN0025 | ø0.25 |
| CGN003 | ø0.3 |
| CGN0035 | ø0.35 |
| CGN004 | ø0.4 |
| CGN0045 | ø0.45 |
| CGN005 | ø0.5 |
| CGN0055 | ø0.55 |
| CGN006 | ø0.6 |
| CGN0065 | ø0.65 |
| CGN007 | ø0.7 |
| CGN0075 | ø0.75 |
| CGN008 | ø0.8 |
| CGN0085 | ø0.85 |
| CGN009 | ø0.9 |
| CGN010 | ø1.0 |
| CGN011 | ø1.1 |
| CGN012 | ø1.2 |
| CGN013 | ø1.3 |
| CGN014 | ø1.4 |
| CGN015 | ø1.5 |
| CGN016 | ø1.6 |
| CGN017 | ø1.7 |
| CGN018 | ø1.8 |
| CGN019 | ø1.9 |
| CGN020 | ø2.0 |
| CGN021 | ø2.1 |
| CGN022 | ø2.2 |
| CGN023 | ø2.3 |
| CGN024 | ø2.4 |
| CGN025 | ø2.5 |
| CGN026 | ø2.6 |
| CGN027 | ø2.7 |
| CGN028 | ø2.8 |
| CGN029 | ø2.9 |
| CGN030 | ø3.0 |
The ceramic electrode guide for AGC2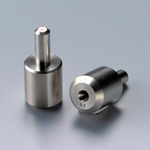 The ceramic electrode guide for AGC2
| Type | Inner diameter |
| --- | --- |
| CGN20020 | ø0.2 |
| CGN20025 | ø0.25 |
| CGN20030 | ø0.3 |
| CGN20035 | ø0.35 |
| CGN20040 | ø0.4 |
| CGN20045 | ø0.45 |
| CGN20050 | ø0.5 |
| CGN20055 | ø0.55 |
| CGN20060 | ø0.6 |
| CGN20065 | ø0.65 |
| CGN20070 | ø0.7 |
| CGN20075 | ø0.75 |
| CGN20080 | ø0.8 |
| CGN20085 | ø0.85 |
| CGN20090 | ø0.9 |
| CGN20100 | ø1.0 |
| CGN20110 | ø1.1 |
| CGN20120 | ø1.2 |
| CGN20130 | ø1.3 |
| CGN20140 | ø1.4 |
| CGN20150 | ø1.5 |
| CGN20160 | ø1.6 |
| CGN20170 | ø1.7 |
| CGN20180 | ø1.8 |
| CGN20190 | ø1.9 |
| CGN20200 | ø2.0 |
| CGN20210 | ø2.1 |
| CGN20220 | ø2.2 |
| CGN20230 | ø2.3 |
| CGN20240 | ø2.4 |
| CGN20250 | ø2.5 |
| CGN20260 | ø2.6 |
| CGN20270 | ø2.7 |
| CGN20280 | ø2.8 |
| CGN20290 | ø2.9 |
| CGN20300 | ø3.0 |
Pipe electrode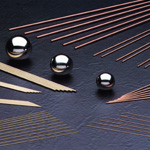 Pipe electrode
| BS (brass) pipe electrode | CU (copper) pipe electrode |
| --- | --- |
| Outside-diameter x Length | Outside-diameter x Length |
| ø0.2×250 | ø0.2×250 |
| ø0.25×250 | ø0.25×250 |
| ø0.3×300 | ø0.3×300 |
| ø0.35×400 | ø0.4×400 |
| ø0.4×400 | ø0.5×400 |
| ø0.45×400 | ø0.6×400 |
| ø0.5×400 | ø0.7×400 |
| ø0.55×400 | ø0.8×400 |
| ø0.6×400 | ø0.9×400 |
| ø0.65×400 | ø1.0×400 |
| ø0.7×400 | ø1.1×400 |
| ø0.75×400 | ø1.2×400 |
| ø0.8×400 | ø1.3×400 |
| ø0.85×400 | |
| ø0.9×400 | |
| ø1.0×400 | |
| ø1.1×400 | |
| ø1.2×400 | |
| ø1.3×400 | |
| ø1.4×400 | |
| ø1.5×400 | |
| ø1.6×400 | |
| ø1.7×400 | |
| ø1.8×400 | |
Unit:mm
| BS (brass) pipe electrode | CU (copper) pipe electrode |
| --- | --- |
| Outside-diameter x Length | Outside-diameter x Length |
| ø0.8V×400 | ø0.8V×400 |
| ø0.9V×400 | ø0.9V×400 |
| ø1.0V×400 | ø1.0V×400 |
| ø1.1V×400 | ø1.1V×400 |
| ø1.2V×400 | ø1.2V×400 |
| ø1.3V×400 | ø1.3V×400 |
| ø1.4W×400 | ø1.4V×400 |
| ø1.5V×400 | ø1.5V×400 |
| ø1.6W×400 | ø1.6W×400 |
| ø1.7W×400 | ø1.7W×400 |
| ø1.8W×400 | ø1.8W×400 |
| ø1.9W×400 | ø1.9W×400 |
| ø2.0W×400 | ø2.0W×400 |
| ø2.1W×400 | ø2.1W×400 |
| ø2.2W×400 | ø2.2W×400 |
| ø2.3W×400 | ø2.3W×400 |
| ø2.4W×400 | ø2.4W×400 |
| ø2.5W×400 | ø2.5W×400 |
| ø2.6W×400 | ø2.6W×400 |
| ø2.7W×400 | ø2.7W×400 |
| ø2.8W×400 | ø2.8W×400 |
| ø2.9W×400 | ø2.9W×400 |
| ø3.0W×400 | ø3.0W×400 |
| ø4.0W×400 | ø4.0W×400 |
Unit:mm
Water-soluble processing liquid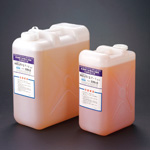 Water-soluble processing liquid
| Product name | Type | Specification | Unit |
| --- | --- | --- | --- |
| "High-cut" | GT/1 | Water soluble | 10L |
| "High-cut" | GT/1 | Water soluble | 20L |
| "High-cut" | GT/V | Water soluble | 20L |
Filter

Hanging filter

Precision filter

The filter for water supply
| Product name | Type | Specification | Unit |
| --- | --- | --- | --- |
| Hanging filter | WR8010 | 3μ | 1 sheet |
| Hanging filter | WR8080R | 5μ | 1 sheet |
| Hanging filter | WR8040R | 10μ | 1 sheet |
| Hanging filter | WR8030 | 5μ | 1 sheet |
| Hanging filter | WR8050R | 5μ | 1 sheet |
| Precision filter | WR500L | 5μ 500mm | 1 |
| The filter for water supply | WR-30K | 300×59×500 | 1 |
| The filter for water supply | WR-30K | 300×59×500 | 2pieces 1set |
| Diatom earth | #900 | 20kg | 1bag |
| Diatom earth | K-CA | 30 sheet | 1set |